New Releases From Severin & Intervision For August : The Otherworld BD & DVD + Suffer, Little Children DVD
|
Severin Films Late August Release Information
The Otherworld
DVD
Label: Severin Films
Prebook: 08/15/2017 Street Date: 08/29/2017
SRP: $19.95 UPC: 663390001943 Cat: SEV91943
Color 89 minutes In English and French with English and French subtitles
All Regions Widescreen Anamorphic 2.35:1 DTS-HD MA 5.1 Surround
Production year: 2013 Documentary Not Rated
Director: Richard Stanley
Cast: Richard Stanley, Scarlett Amaris
Special Features:
The Making Of The Otherworld Featurette
Deleted scenes
Trailer
The Otherworld
Blu-ray + Limited DVD Bonus – Included With First 2500 Units – 2 Discs
Label: Severin Films
Prebook: 08/15/2017 Street Date: 08/29/2017
SRP: $24.95 UPC: 663390001950 Cat: SEV91950
Color 89 minutes In English and French with English and French subtitles
All Regions Widescreen Anamorphic 2.35:1 DTS-HD MA 5.1 Surround
Production year: 2013 Documentary Not Rated
Director: Richard Stanley
Cast: Richard Stanley, Scarlett Amaris
Special Features:
The Making of The Otherworld Featurette
Deleted scenes
Trailer
Limited To first 2500 units: Bonus DVD Includes VOICE OF THE MOON, THE WHITE DARKNESS & THE SECRETGLORY with new Richard Stanley Intros & Commentary
Review Quotes:
A gorgeously photographed, mood-altering film… Part documentary, part first-hand testimony of the paranormal, and part psychedelic head trip. 
-The Hollywood Reporter
Mesmerizing and amazing… This is a beautiful, haunting masterpiece. 
-Schmollywood Babylon
Richard Stanely is an artist in every sense… Brilliant and abstract, he offers a new perspective on reality. 
-BodyCountRising.com
Trailer link:
https://www.youtube.com/watch?v=kGpePD6tHBY
Trailer is provided for story purposes only and may not represent the actual film quality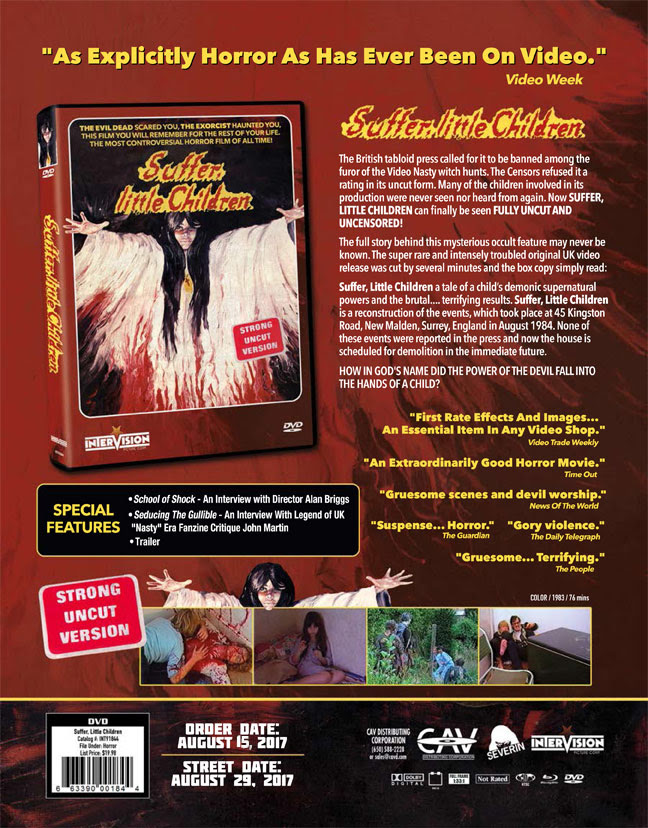 Intervision Pictures Corp – August 2017 New Release
Suffer, little Children
DVD
Label: Intervision Pictures Corp
Prebook: 08/15/2017 Street: 08/29/2017
SRP: $19.98 UPC: 663390001844 Cat: INT91844
Full Screen 1.33:1 Dolby Digital 2.0 Stereo In English
Closed Captioned In Color Production year: 1983
Horror Not Rated 75 Minutes All Regions
Director: Alan Briggs
Cast: Colin Chamberlain, Ginny Rose, Jon Hollanz
The British tabloid press called for it to be banned among the furor of the Video Nasty witch hunts. The Censors refused it a rating in its uncut form. Many of the children involved in its production were never seen nor heard from again. Now SUFFER, LITTLE CHILDREN can finally be seen FULLY UNCUT AND UNCENSORED!
The full story behind this mysterious occult feature may never be known. The super rare and intensely troubled original UK video release was cut by several minutes and the box copy simply read:
Suffer, Little Children a tale of a child's demonic supernatural powers and the brutal… terrifying results. Suffer, Little Children is a reconstruction of the events, which took place at 45 Kingston Road, New Malden, Surrey, England in August 1984. None of these events were reported in the press and now the house is scheduled for demolition in the immediate future.
Special Features:
School of Shock – An Interview With Director Alan Briggs
Seducing The Gullible – An Interview With Legend of UK 'Nasty' Era Fanzine Critique John Martin
Trailer