Two New Releases On Blu-ray From Mondo Macabro For September
|
Mondo Macabro June 2017 New Release
Fox With A Velvet Tail, The
Blu-ray
Label: Mondo Macabro
Prebook: 08/08/2017 Street: 09/12/2017
SRP: $29.95 UPC: 843276017590 Cat: MDO175
Color 98 minutes In English or Italian with English subtitles
Region A Widescreen 1.85:1 PCM Mono
Production year: 1971 Horror Not Rated
Director: Jose Maria Forque
Cast: Analia Gade, Jean Sorel, Rosanna Yanni, Tony Kendall, Maurizio Bonuglia
This 1971 Italian/Spanish giallo is a hugely enjoyable and very stylish murder mystery set on the luxurious Cote d'Azur. Spanish director Jose Maria Forque – who later made the controversial Beyond Erotica – brings together a talented and good looking cast, one of the best cinematographers of the day (Alejandro Ulloa) and a fantastic, lounge style score from Maestro Piccioni to create a twisty, and twisted, tale of deception and revenge. The director's long career at the more prestigious end of Spanish cinema and the presence of award winning scripter Rafael Azcona – who worked with many top European film makers – give the film an edge of sophistication alongside its enjoyably devious narrative.
The film is like the smooth blue waters of the Mediterranean where it's set. It looks inviting and seductive, the sun glistening off the gentle waves; but just beneath the surface, sharks are swimming, and they're hungry for prey…
Special Features:
New 4k transfer from negative
Fully restored
Audio commentary by Troy Howarth
So Sweet, So Perverse – Documentary
Original Trailer
Alternate scenes
New artwork from Justin Coffee
Newly created English subtitles
English/Italian audio choice
Mondo Macabro previews
Review Quotes:
The story unfolds in an extremely clever way and has a few very unexpected twists and turns… A highly recommended slice of early 70s thriller writing.
-Letterboxd.com
Unpredictable twists and turns along the way to a pleasingly ironic denouement.
-Giallo Fever
Director Jose Maria Forque delivers a winning hand…
-Adrian Luther Smith – Blood and Black Lace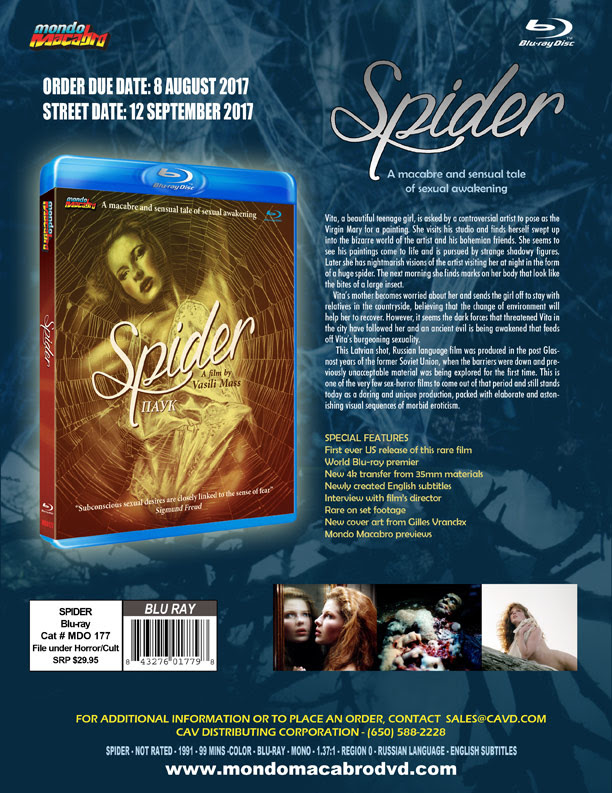 Spider
Blu-ray
Label: Mondo Macabro
Prebook: 08/08/2017 Street: 09/12/2017
SRP: $29.95 UPC: 843276017798 Cat: MDO177
Color 99 minutes In English and Spanish with English and Spanish subtitles
Region A Full Screen 1.33:1 PCM Mono
Production year: 1991 Horror Not Rated
Director: Vasili Mass
Cast: Romualds Ancans, Aurelia Anuzhite, Saulius Balandis, Liubomiras Lauciavicius
Vita, a beautiful teenage girl, is asked by a controversial artist to pose as the Virgin Mary for a painting. She visits his studio and finds herself swept up into the bizarre world of the artist and his bohemian friends. She seems to see his paintings come to life and is pursued by strange shadowy figures. Later she has nightmarish visions of the artist visiting her at night in the form of a huge spider. The next morning she finds marks on her body that look like the bites of a large insect. Vita's mother becomes worried about her and sends the girl off to stay with relatives in the countryside, believing that the change of environment will help her to recover. However, it seems the dark forces that threatened Vita in the city have followed her and an ancient evil is being awakened that feeds off Vita's burgeoning sexuality.
This Latvian shot, Russian language film was produced in the post-Glasnost years of the former Soviet Union, when the barriers were down and previously unacceptable material was being explored for the first time. This is one of the very few sex-horror films to come out of that period and still stands today as a daring and unique production, packed with elaborate and astonishing visual sequences of morbid eroticism.
Special Features:
First ever U.S. release of this rare film
Newly created English subtitles
Interview with director
Rare on set footage
Mondo Macabro previews
Cover art from Gilles Vranckx
Review Quotes
A remarkably strange film full of bizarre ideas and beautiful pictures. The dream sequences are numerous and extremely imaginative.
-Hypnosenmaschinen
The film is devoted to an entirely secular theme – the awakening of sexuality – but it creates a disturbing fairy tale about bad magic, good priests, wild fantasies and the lure of evil.
-Remember It for Later, Oliver Noding
Zirneklis echoes Neil Jordan's The Company of Wolves (1984) as it evokes fairy tale motifs as a means of exploring the sexual awakening of young women.
-The Spinning Image