Two New Titles from Troma Entertainment for January 2018
|
Troma Entertainment January 2018 New Releases
Hectic Knife
1 Blu-ray disc
Label: Troma Entertainment
Prebook: 12/22/17 Street: 1/9/18
MSRP: $19.98
UPC: 790357108176
Color 71 minutes in English
All Regions. Widescreen 1.78:1
Dolby Digital 2.0 Stereo
Production year: 2015
Director: Greg DeLiso
Cast: Peter Litvin, JJ Brine, Georgia Haege, John Munnelly, Traci Ann Wolfe
Hectic Knife is the story of Hectic Knife, a new kind of super hero! Follow him on his bloody adventure through the scum filled streets as he slays bad guys, girlfriends and bagels!? Hectic Knife is a crazy, unforgettable comedy that'll blow your brains out!
Extras:
Intro by Lloyd Kaufman
Deleted Scenes and Blooper Reel
2 Audio Commentaries
Theatrical Trailer
Original Short Films and more Tromatic Extras!
Trailer links: https://youtu.be/eHahJ_OYmz0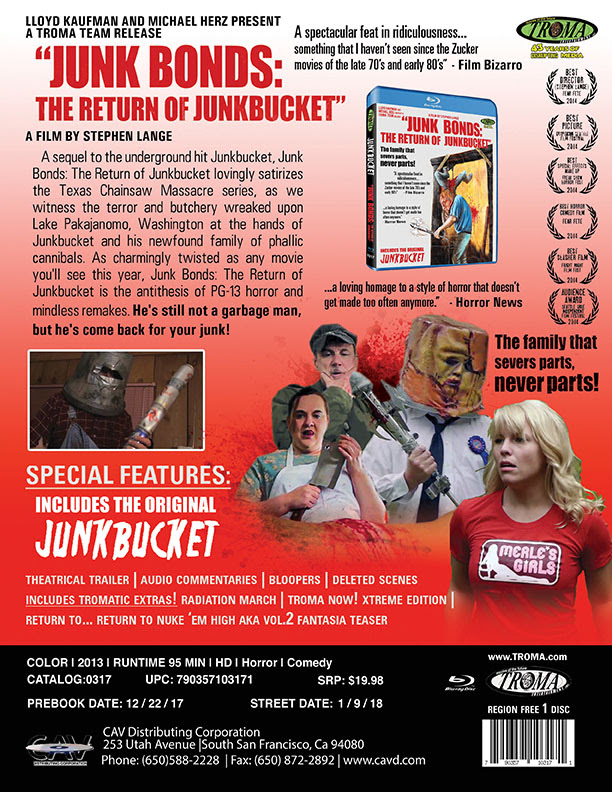 Junk Bonds: The Return of Junkbucket
1 Blu-ray disc
Label: Troma Entertainment
Prebook: 12/22/17 Street: 1/9/18
MSRP: $19.98
UPC: 790357170104
Color 95 minutes in English
All Regions. Widescreen 1.78:1
Dolby Digital 2.0 Stereo
Production year: 2013
Director: Stephen Lange
Cast: Erin Stewart, David Rollison, Graham Downing, Kate Jaeger, Mike Christensen, Ryan Higgins, Brenda Joyner, Sara Coates, Nick Edwards, and Ryan Miller as Junkbucket
A sequel to the underground hit Junkbucket, Junk Bonds: The Return of Junkbucket lovingly satirizes the Texas Chainsaw Massacre series, as we witness the terror and butchery wreaked upon Lake Pakajanomo, Washington at the hands of Junkbucket and his newfound family of phallic cannibals. As charmingly twisted as any movie you'll see this year, Junk Bonds: The Return of Junkbucket is the antithesis of PG-13 horror and mindless remakes. He's still not a garbage man, but he's come back for your junk!
Extras:
Theatrical Trailer
Audio Commentaries
Bloopers and Deleted Scenes
Radiation March
Troma Now! XTREME Edition
Return to Return to Nuke 'Em High aka Volume 2 Fantasia Teaser