Gore Whore (1994) (DVD Review)
|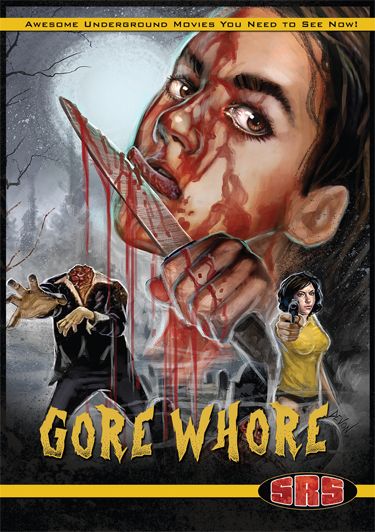 Gore Whore (1994) (DVD Review)
Directed By: Hugh Gallagher
Starring: Audrey Street, Brady Debussey, D'Lana Tunnell
Rated: UR/Region: 0/1:33/Number of disc: 1
Available From SRS Cinema
When a lab assistant steals an important formula and all its documentation from Dr. Whitman, he hires a bottom-of-the-barrel private eye, Chase Barr, to locate it. When Barr digs deeper into the case he finds the lab assistant is actually a dead street whore and the "formula" is a reanimation agent that, with the consumption of human blood, is keeping her alive! In trying to retrieve the formula, Chase is given a rollercoaster ride through hell as the whore reanimates corpses to attack him and help her hold onto the formula.
I have a soft spot for old school shot on video movies and one of the weirder ones you'll find out there is Hugh Gallagher's Gore Whore. This is part of a trilogy from the director that really doesn't connect. I know Gorotica came before this and I also have it to review as well, but I liked this one better so I'm reviewing it first. Gore Whore kind of borrows a little of its plot from Re-Animator (Maybe more than just a little). We have a green serum that can reanimate the dead and it is in the hands of a woman who injects it by way of a black dildo and also uses it to get some zombies up and going when need be as well. On the case of getting that stuff back for a doctor named Witman is a character called Chase. He's a pretty entertaining lead to his credit as he seems to be able to mix some comedy in his performance regardless of if it is intentional or not. He doesn't overdo it to the point of slapping you over the head with it, but it makes you laugh when he does such things as punt a zombie's head after informing the head that he once set a record for field goals in high school football. That isn't even the craziest thing you'll see while watching this one, so if you do decide to give it a spin just make sure you turn your brain off for the course.
Gore Whore isn't a good movie by any traditional means. I guess you could call it a good "bad movie" if anything else. We have a leading lady often getting naked that seems to have a caved in chest. We have her also doing a lot of things while naked, including some questionable stuff in a graveyard. This is just a strange movie but it manages to be a very entertaining movie and that is enough for me to recommend it to someone. I do think being a fan of shot on video stuff is a must before even attempting this one. While a lot of people might not like it for one reason or another I have to give it props for being a movie that didn't just let the fact it was shot on video get in the way of it trying to exceed those typical means. Cars do sorta get crashed, blue screen is used well, and we have lots of blood and blend in well with the sorta awful look the film has after all these years. Gore Whore won't be for everyone and I admit that but it will be a very entertaining film to those who just have a love for this sort of thing and I happen to be one of those people. I dig and can admit it is one of the more bizarre and creative shot on video horror films I have had the pleasure of seeing.
Extras
– Director's Commentary
– Director's Interview
– Trailers